What's better than a wind blown Collie?
If you immediately thought "Cake!" you were wrong.
If you thought "Kitties! Where are the kitties?!" you're not only wrong, but you're in the place!
The correct answer is...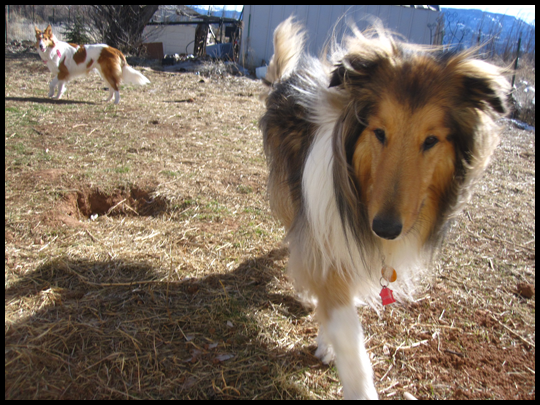 Not much.
Just look at that! I wanna run my fingers through it and do ridiculous things like braid it or put ponytails or hair clips in it!*
* All of these things have been done to him before (hey, he was raised by a thirteen year old girl with three younger sisters, this stuff was bound to happen to him! It's alright though, it made him the very patient boy he is today). Needless to say, the day Petal's hair was long enough to put girly hair clips and bows in was a very happy day for this boy, indeed. ;]
P.S. Head on over to our Facebook page (click on the little Facebook stamp at the top of the left sidebar) and post a picture of your dog(s) so Lassie, Ella and Petal can see their followers! If you would like to, you may leave their Facebook and/or blog urls, too, then we can like and follow them back!
Thanks!
♥