Today Petal is 3 years old.
When the heck did that happen?
Probably while I was sleeping, because I'm pretty sure she was still
this small
just yesterday.
So far we've celebrated with a new toy, cookies, a mini photo shoot, and some
crazy time
play time outside with our houseguest, Pepper.
All things that Petal enjoys.
She was totally into ripping up that paper until she found the hidden cookie within, then it wasn't so much fun anymore.
"All of that for one cookie? I don't think so. You open it, human."
I have to say, Pepper runs insanely fast. She kept up with Petal well.
There's also something about watching a little dog run that is so funny, and adorable, to me.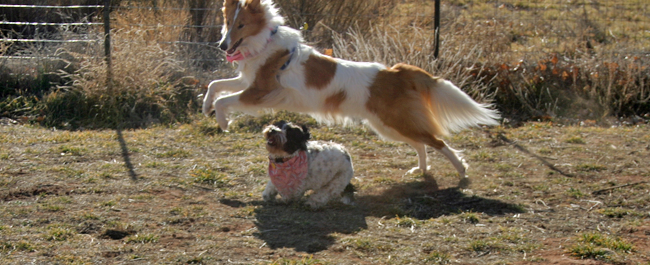 They're all snoozing as I type this, so I think it's safe to say they've had a pretty good day so far. And seeing as Petal was the first to go down, I think she has had a good birthday.
I still can't believe she's three.
I'm so grateful to have this amazing dog in my life.
She makes me laugh and she makes me smile. She makes even the bad days brighter. She keeps me on my toes. She offers the sweetest snuggles and the silliest antics.
The morning after Ella passed away I was sitting on the couch, moping and losing myself in it all, in all the 'what ifs' and 'I can't believe... ' and Petal looked at me and then walked away. At the time, I didn't realize how deliberate that look was, but thinking back on it, I can't help but believe that it was very deliberate. At the time, I thought nothing of it until she came back with a packaged fish from the kitchen sink (where it had been defrosting in hot water). She just casually walked into the family room with the clear packaging swinging back and forth in her mouth and she looked right at me again, making eye contact with me and forcing me to come back into the present and out of my own guilt-ridden thoughts.
"Petal! What do you have?" I asked her.
She bowed her head and then jerked it upward as she released the package, sending it flying underneath the dog cot. Then she looked at me and I swear if dogs could talk she would've said, "
Noooothiiing
." in a tone that should imply innocence, but really implies the exact opposite.
On a normal day this would've just been a silly, normal, thing to giggle at and then post on Facebook or here, on the blog, but since it wasn't a normal day— it was far from a normal day— it meant more than that. Which probably sounds silly, but it's all about the timing. I
really
needed that, that reason to smile and to laugh, and Petal gave me that just when I needed it the most. I think she knew it was what I needed. I don't believe for a second that it was just a coincidence or that she was "just looking for a snack"* if that had been the case, she would've ripped open the packaging and eaten the fish, she certainly wouldn't have shown it to me and then thrown it away.
So thank you, Petal, for being the sweet, loving, goofball that you are.
*If you want to believe it was "coincidence" or just my dog "misbehaving" that's okay with me.
Just keep it to yourself. ;)