Recently Lassie and Petal acquired new collars. Ella didn't need a new one, which is shocking because she's usually the one who needs the new collars. Ella has had her collar for nearly a year and a half now. Her collars usually only last a month or so. But last year I bought her a
Dublin Dog
All Style, No Stink collar and she's had it ever since!
Snoozing in her stylin' collar.
I fell in love with Dublin Dog's Daisy Daze collars and got a yellow one for Petal.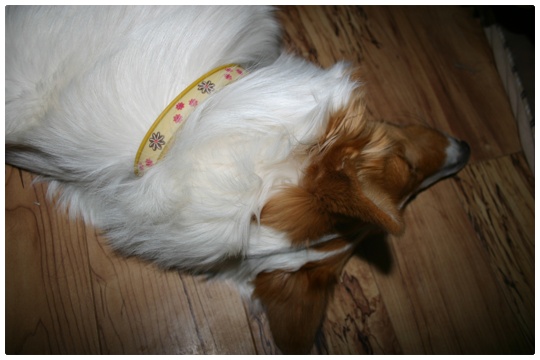 Then I decided that Lassie really should match his sisters, so he got one, too.
Yes, that is my hand & yes, I took pictures of their collars during nap time. ;]
Come July, Dublin Dog is suppose to have new colors/patterns and with Ella's birthday being July 26th, I have a feeling she'll be getting another collar next month.
Labels: ella, lassie, new collars, petal