So yesterday, the 27th, was one week after Petal's surgery. Yay! We're looking forward to two weeks when we can go out and play and get muddy and dirty again.
Petal has been doing very well and Mom and I started taking her for short little walks just to get her out of the house for some fresh air and to stretch her legs.
So excited to be free!
Short walks was really all it took though as it really doesn't take much to exhaust her right now.
I kept her in her safety pen until Wednesday when I decided she could come out and play for a little bit. She was more than happy with this and her and Ella immediately began playing with each other.
At super sonic speed!
Crazy girls.
And while she's in her pen Harriet sometimes comes to keep her company, just as a good friend would.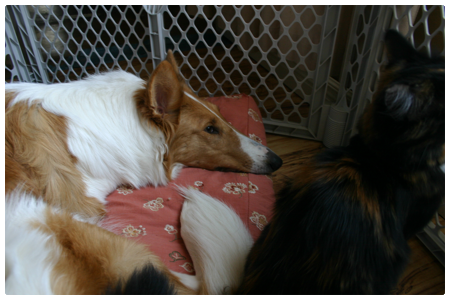 Petal is recovering quickly and wonderfully. It'll be two weeks before we know it and then we'll be out having adventures again! And maybe a bath too. ;]
Petal gets spayed
Day Two
Day Three