Day Two.
It's day two and Petal is still being
pampered
tortured. She woke up looking much more like her usual, sober self. She was alert and looked a lot less miserable. But, to my great relief, she's been very tired and very calm. I was so afraid she'd wake up feeling sober and think that that meant she was all better and she could go right back to her crazy self. She definitely did not do this though. Instead she's been really careful and gentle with herself and she's been sleeping a lot, which is also good, she needs her rest.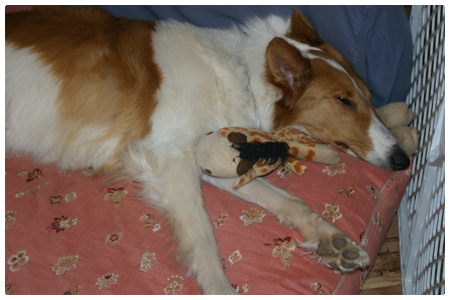 Snuggling with George the Giraffe who has been loyally by her side since the car ride to the Vet.
Her appetite has been great, I've been slowly feeding her her Sojos in small amounts at a time. I even stuffed her Kong with her food to give her a little something to do. She has only taken one tiny little sip of water though, but thankfully Sojos is made with water so I'm not too concerned about that just yet. Other than Sojos she has also enjoyed one of her tasty treats, Twistix SensiBelly, from Bone Appetit this morning.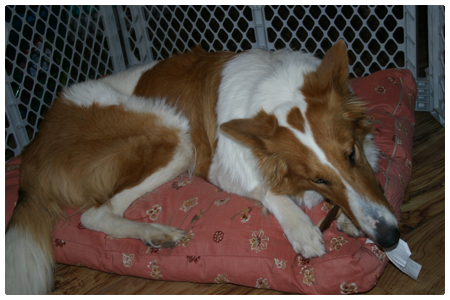 I have to hide Petal's hyperhyperhyper sister Ella in the bedroom when I let Petal out to go outside to relieve herself. Ella gets way too excited and tries to initiate a wrestling match. Lassie has always been much more understanding in situations like these and has been very good about letting Petal be.
Petal's safety area is right by the window, where she can enjoy a bit of sunshine and keep warm.
She also has the best view of the front yard. ;]
Day two is quickly coming to an end and I think it has been very successful. Petal's been resting well, no more (heartbreaking) whimpering like the first night, and she's been getting plenty of love and attention, of course.
Petal gets spayed
Day Three
One Week