Today Ella turned five years old! To celebrate her marking another year we, of course, ate lots of tasty treats!
My Mom bought the dogs some yummy (and cute!) cookies from Urban Dawgz. These cookies are always a huge hit with the dogs.

And I baked some mini cupcakes, topped with peanut butter, honey and walnuts! The dogs really loved these, too.
This would be Ella looking all annoyed with me. She wants one of those tasty cupcakes, not a photo shoot!
Nummyyy cupcake!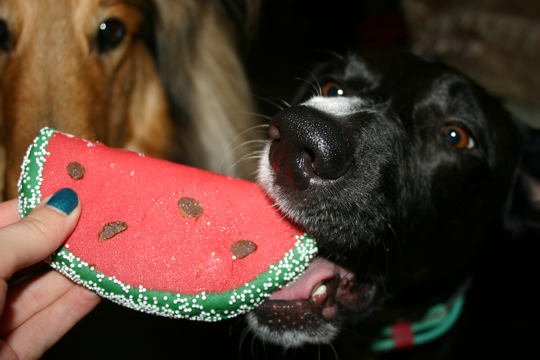 And some tasty cookies too!
Of course Lassie & Petal got to enjoy some cookies and cupcakes, too.

And as a birthday present (no birthday is complete without presents), Ella is getting a pink & brown collar from
Dublin Dog
. :]
Happy birthday Miss Ella Grace! ♥