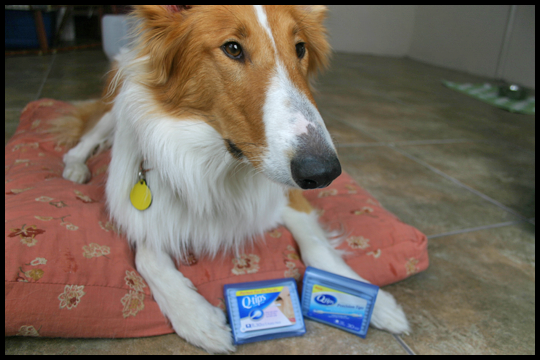 I don't know about you guys, but I have found many uses for Q-tips including: make-up touch up/clean up (I can never apply eyeliner just right the first time, so a damp Q-tip became my best friend), cleaning between the keys on my keyboard, rubbing nail polish off my fingers (.. I'm a messy person) and there are many other uses. I love their little travel/purse size containers, I keep one in my make-up bag at all times. I use them on a weekly, sometimes daily, basis for myself.
However, I never once thought to use them to help with the dogs.
What could the dogs possibly need Q-tips for?


I found a few good uses for them with my own dogs.
They came in handy when Lassie needed ointment applied on a very... delicate and private area, a Q-tip made the job oh so much easier and much less.. gross. I wasn't trying to open up the bathroom door with just my palms as I try not to smear my ointment-y fingers on the doorknob. Thank you, Q-tips!
I used them to rub a little Paw Rub on Petal's dry nose. And when she got a cactus needle stuck in her leg early this year, I'm sure a Q-tip Precision Tip would've made applying Neosporin to the little puncture wound very easy had I had one. I think I'll be keeping one of the little cases of Q-tips in the dogs' travel bag from now on!
I also used a Q-Tip Precision Tip to clean out the little hard to reach creases in Petal's Kong Treat Ball.
I thought this toy would just forever be dirty in those little creases because nothing was small enough to fit in there. But the Q-Tips fit in the little creases perfectly and I was able to get it all cleaned up!
I also enjoyed using the Precision tips for fixing up my eyeliner. With the regular Q-Tip I was always picking off some of the cotton, trying to make it smaller and pointier; there's no need for that with the Precision tips and they fixed up my eyeliner very nicely. I also used those Precision tips to make little polka dots on my finger nails with nail polish! SO fun and super easy!
There are tons of ways to use Q-tips. Click
here
for a list of more Q-tips uses!
And enjoy one last photo of my pretty little Q-tip model.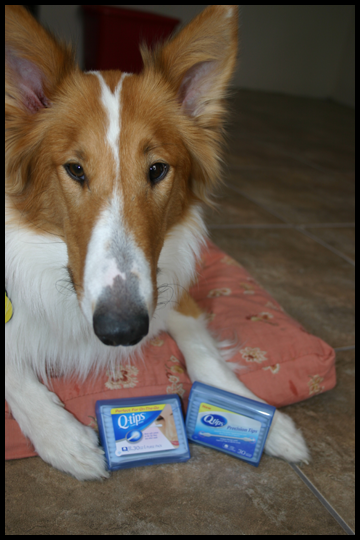 Note: I was provided with Q-tips cotton swabs
®
and information about the product by RocketXL. All opinions are 100% my own.
Another Note:
I was asked to let you guys know that the smaller, Purse Pack of the Q-tips Precision Tips are not for sale. Here's an image of the packaging you can find the Precision Tips in: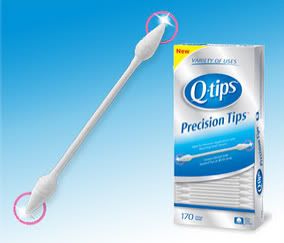 Also be sure and check out Q-tips on
Facebook
where you can enter their Tip-a-Thon! Just share a unique tip using Q-tips and you'll be eligible for a chance to win* a $100 gift card or a grand prize worth $1,000.
*No purchase necessary. Void where prohibited. Q-tips "Q-tips Cotton Swabs Tip-a-Thon" Sweepstakes is sponsored by Conopco, Inc., d/b/a Unilever. Open to legal residents of the 50 U.S. & D.C., 18 or older. Begins 12:01 a.m. ET on Monday, October 24, 2011 & ends 11:59 p.m. ET on Thursday, December 15, 2011. For official rules, visit
www.facebook.com/Qtips
.
Labels: clean up, collies, dogs, lab mix, make-up, Q-Tips, review, travel size q-tips