A few weeks ago we received a box of pet supplements to review:
Rejuv-A-Wafers
.
"Rejuv-A-Wafers for Dogs and Cats provide additional nutrition for your cherished pet, by rejuvenating your loving companion with nature's most nutritious superfood. Rejuv-A-Wafers is a daily supplement packed with beneficial antioxidants, vitamin C and vitamin A, plus minerals, protein, beta-carotene, chlorophyll and fiber that will help your pet thrive."
All three dogs were on it for 17 days, with Lassie getting two a day (after about a week) and with Petal and Ella each getting one a day (though Petal probably could've had two).
The Rejuv-A-Wafers are a small, circular shape and are very easy to crumble if you have a picky pet and want to crumble it over their food.
Petal and Ella both took the little wafer from me and ate it as if it was a treat (I was very surprised by this as they won't usually eat supplements like they're treats). Lassie, however, would not be fooled. He knew it was much too healthy to be considered a treat! But he gobbled it up no problem when I placed it in his food. I didn't even have to break or crumble it.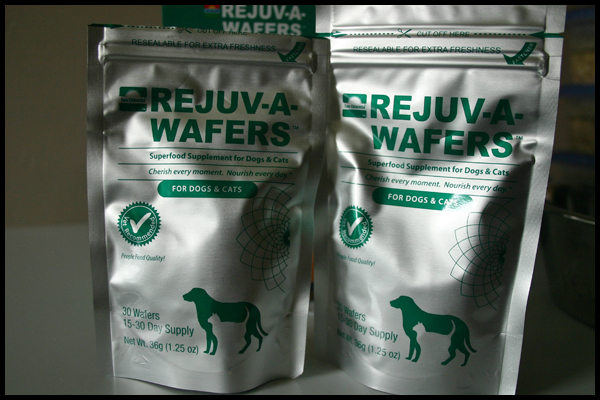 "

Just like Sun Chlorella for humans, REJUV-A-WAFERS™ will help purify your pet's body of dangerous toxins and chemicals, enhance your pet's health with an abundance of beta-carotene, and help improve your pet's appearance and overall health and well-being."
My box of 60 wafers came with two resealable bags, each with 30 wafers.
I started the dogs on this supplement the morning after it arrived in the mail. They all did well that day, but that night the girls had a little bit of runny poo (eeewww, I know), so I skipped giving it to them on the second day and wasn't worried about it; as with most new products, they needed time to adjust. I was surprised, though, that I only needed to skip that second day. After that, they all did very well on it!
Though they weren't on it for very long, I did notice a few changes that I think came from these supplements. Ella, for example, has her cranky days where she snips and snaps at Lassie and Petal just because they looked at her or walked past her. She's never harmed them, she just gets snippety sometimes (usually when she's sore— she has a bad hip). But while she was on the Rejuv-A-Wafers, she didn't have many (or any, now that I really think about it) of those moments.
Lassie and Petal's coats look great! There were no negative changes at all, my dogs did wonderfully on it.
If you want to read more about the Rejuv-A-Wafers you can visit their website
here
.
However, I want to point out that while the website says to give pets up to 25 pounds 1 wafer and pets over 25 pounds 2 wafers, the box actually says to give pets up to
50
pounds 1 wafer and pets over 50 pounds 2 wafers. I would follow the box's directions over the website's.
Overall, I think it's a great supplement!
Disclosure: I was sent a box of Rejuv-A-Wafers, free of charge, for this review. All opinions are my own based on my own personal experience while using this product.