This morning, as I walked over to the bookshelf where I had left my glass of water, I looked down and spotted this in Petal's bed: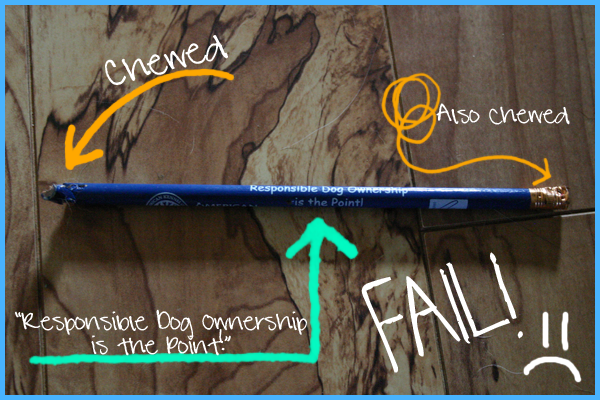 ... What does this say about me?
Heh. Probably nothing good.
But allow me to defend myself. I was, to be fair, asleep when she did this.
Normally I can hear mischief from miles away, even while I'm sleeping, and I fly out of bed to put an end to it.
Seriously, I should have a cape.
Unfortunately my cold has weakened my supernatural abilities and I had no idea she even had access to this pencil until after she got bored with it.
I wonder what the AKC would say about this...
Look! There's even Collie hairs sticking out of it! Ha!
Let's see what Petal has to say about her pencil chewing...
"The cat did it."
"You lying little fleabag! Well! I've never been more insulted in my entire life!"
Nice try, Petal, but the evidence was found in your bed.
I'm still wondering where she found this pencil.
I had a few of them in my purse, from when the local pet store
(now closed! :( darn it!)
was offering free training classes for the
Canine Good Citizen
test (which Lassie took and passed);
"I don't chew on pencils."
they were giving out these pencils. I guess they felt they had
too many
pencils, because she gave me a whole handful of them. I don't know why. She probably looked at me and thought, "She's probably a student, she could use a few thousand pencils!"
Well I'm not a student and I've had these pencils for a year now and haven't so much as sharpened them.
I only have one, misplaced, pencil sharpener and dozens of markers.
So of course I use the markers.
Anyway.
I wish I could say this was the first time Petal ever chewed on a pencil, but that is not so. She has raided our pencil box once before, so we're careful to keep the lid on it.
She never swallows them though, thank goodness. Crayons, on the other hand...
Yeah, I'm looking at you!
Miss Rainbow Poop!
"Crayons are good."