My dogs will do anything for a biscuit.

It's true. The following photos are proof of my truthfulness.
My Collies will do anything for a biscuit.
And some camera time.
Because when you've got it, flaunt it.
And when your owner has treats, flaunt it in reindeer antlers...
Let's meet Santa's newest reindeers, shall we?
Meet Santa's naughtiest (but cutest) reindeer. Santa is always having to bribe her with extra carrots to
just fly in a straight line, please!
Now don't be fooled by the size of this reindeer. She can keep up with the best of them.
She also supplies the reindeer poop for the children who are too naughty for coal.
"Hey Santa, let's visit my place first this year."
"Uhh... no, turn around. We're going the other way first."
"This way?"
"No, just straight ahead, please!"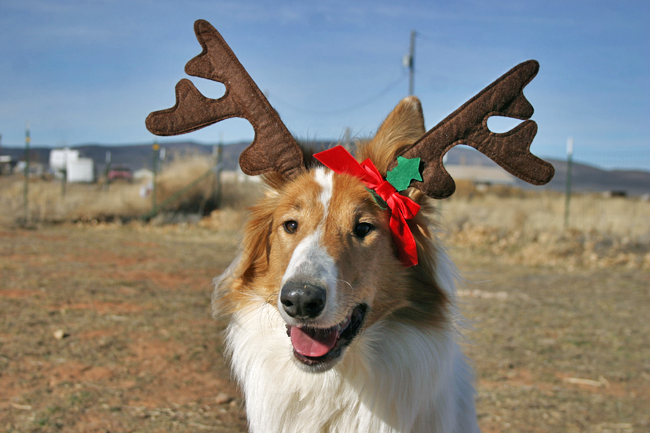 "I don't know where the fun is in that, but if it means an extra dog biscuit, I mean
carrot
, then fine."
"I'm a good reindeer, aren't I? The best of the best."
"Right you are. Your inflated ego really helps hold up the sleigh!"
"Excuse me?"
"Have a carrot! Ho, ho, ho!"
*grumbling* "I'll give you a carrot."
"Look! I'm Lassie and I think I'm
sooooo
awesome. I'm so awesome I fart glitter! Hehehee!"
"SHUT UP."
"YOU shut up, Lassie!"
"Quiet down!"
"Sorry Santa."
This is not the last time you will see these two in antlers.
As long as I have treats, they'll wear them. ;)
Pepper on the other hand...
"Mom, if you happen to see this, please, please,
please
,"
"Never send me to stay with these people ever,
ever
, again! They're all mad!"
Have a biscuit!
And a lovely weekend!
♥
Join the
Saturday Pet Bloggers Hop!
Labels: antlers, anything for a treat, christmas, collies, lassie, pepper, petal, reindeer, the saturday pet blogger hop