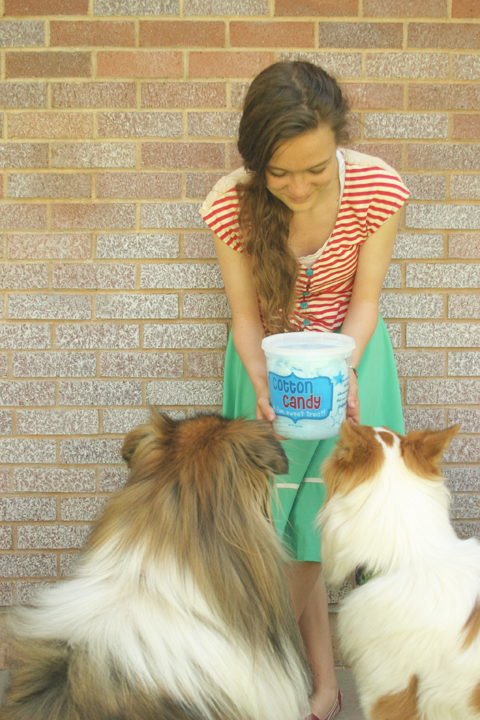 It's summer time, a time for swimming and carnivals and cotton candy.
Delicious cotton candy.
I don't know about you, but I think cotton candy smells amazing. So sweet and pleasant.
More things should smell like cotton candy.
For example, Collies.
Collies should smell like cotton candy.
Today we're reviewing
Maqnifiscent Grooming and Finishing Splash
in the Cotton Candy scent.
Yes, my dogs smell like
cotton candy
.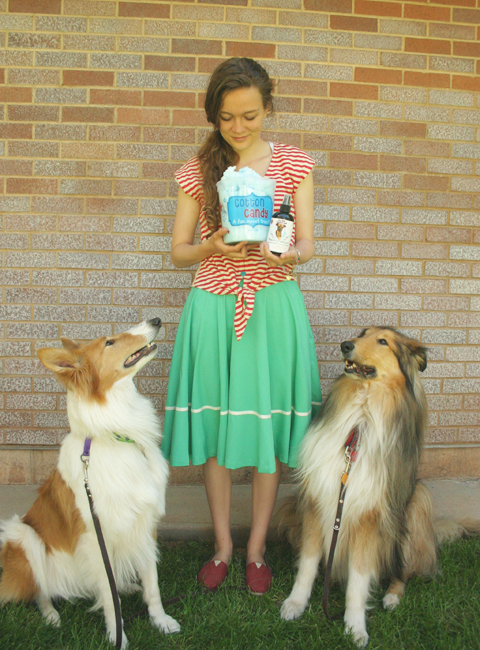 Maqnifiscent Grooming and Finishing Splash comes in many different unique scents such as Dark Chocolate, Raspberry Bubble Gum, Pina Colada and others. They even offer custom* fragrances!
Here's what they have to say about their product:
"Maqnifiscent Grooming & Finishing Splash is a non-toxic multi-purpose unisex formula that has been designed to keep your pet and home smelling Maqnifiscent. This product instantly eliminates odors and conditions and detangles your pet's coat while keeping your loved one fresh between baths. Our preparation contains a long-lasting, non-sticky, first of its kind, scratch-n-smell formula that is immediately reactivated when you comfort your pet or they rub themselves. All of our fragrances are alcohol and paraben free. It can be used as often as necessary."
You can read a little more about the company
here
.
Made in the USA! Yay!
When I was first contacted about this product I had my doubts about it's scratch-n-smell ability. I was worried about what would go into this bottle to give it such an ability. But according to their
FAQ
page all their splashes are made up of
"... a food-grade based gelatin, water, and Virgin Coconut Oil which conditions the skin while keeping the coat shiny."
Sounds good to me!
And guess what?
It works. And it really does smell like cotton candy. I crave it every time I spray it.
I sprayed some on Petal's back, chest, each side, and back end and rubbed it in. Probably didn't need that much, I went a little crazy with it. But it made her smell wonderful and it lasted for several days, nearly a week, even after being rolled through the dirt by Penny. Several times.

And it really does work like a scratch and sniff!
One day my sister buried her face in Petal's hair and claimed she couldn't smell the cotton candy. I told her to try petting her a little first. She looked at me like I was insane. "What is she, a scratch and sniff?"
I smirked, we were about to find out, "Just try it!"
She did and her eyes were rather wide when it actually worked.
The more you pet Petal the more she smells like cotton candy.
Love. It.
While the bottle claims that it works best on short haired dogs, it seemed to last longer on Lassie and Petal than it did on Penny. The spray lasted 5-7 days on both Petal and Lassie, but on Penny it only seems to last about 2-3 days. I really feel that that may have something to do with the fact that she hates to be sprayed with anything. So while Lassie and Petal get 3-4 spritz on various parts of their body, Penny gets 1 or even just half a spritz before she runs off. It's too bad, because she needs it the most if you ask me. Smelly dog.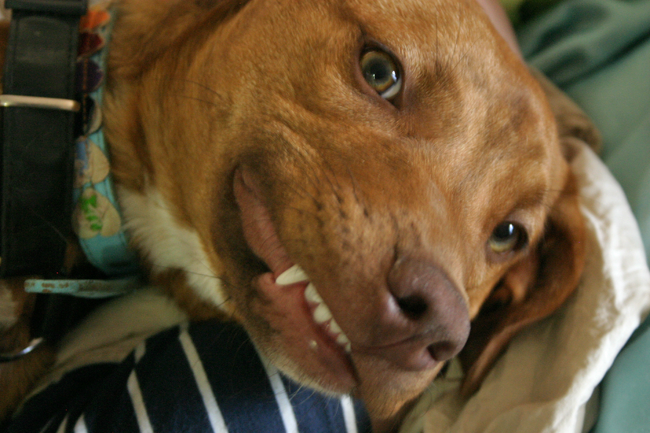 "I resent that. I do not smell."
Regardless of that, it is the most effective dog body splash I have ever used on my dogs. It's also the best smelling one and the most cost effective one, too. I've had previous sprays that were $9.99 or more for a tiny little 2 or 4 ounce bottle. This bottle was a very impressive size at 8 fl. oz. for $12.99 and a little goes a long way so I think it's going to last us a good long time.
We give Maqnifiscent Grooming and Finishing Splash 5 out of 5 hearts for their wonderful cotton candy fragrance and effectiveness.





4 hearts for their excellent prices.




And the dogs give it 4 out of 4 paws up for being gentle on their skin and
not
sticky in their fur.




We really love this spray. Go check them out
here
and tell them we sent you! ;)
*When ordering custom fragrances, they require that you order two bottles minimum.
Discloser: I was sent one bottle of Maqnifiscent Grooming and Finishing Splash free of charge for review. I was not paid or otherwise encouraged to write a positive review. All opinions expressed are entirely my own based on my experience with the product.