Sweet Potato Stix are a soft and chewy vegetarian treat.
As you can probably tell by Lassie's drool (I was so amused to find that when importing pictures from camera to computer), they were delicious!
These treats are easy to break into smaller pieces, if desired, and are great for training or hiding in a KONG Genius toy (the Leo in particular).
"Mmmm, delicious!"
I did expect them to be a little longer, simply because of the word "stix" plus in images they do look longer. But that's not a problem, I would've broken them anyway. ;)
They're about $7 on Amazon for a 6.5 oz bag.
Chew Buddies
"Long Lasting Chews are the perfect way to treat your dog and help clean their teeth as well."
We received a variety pack with 4 large Chew Buddies inside. Chew Buddies come in three different flavors to choose from: Chicken (porcupine and cow pictured), Fresh Breath (alligator), and Bacon ((adorable) dinosaur).
They smelled alright to me, but they must've smelled
amazing
to the animals because 2 out of three
cats
came running when I opened the bag and dumped them out for pictures.
Petal was my first taste tester. I let her pick which one she wanted to try.
Moony the cat wants one too!
Petal chose the chicken flavored cow and promptly chewed it's head off.
Look! It has a little belly button! Hehe.
The chew lasted a little longer than expected, about 5 or so minutes.
She greatly enjoyed it, licking up all the crumbs she left and begging for another.
I gave Lassie the Bacon Dino to try and he gobbled it up happily.
Front
Back
Lassie gobbled it up in about five minutes and licked up every crumb. I think it's safe to say he greatly enjoyed it.
As you can see from the picture above, it's not a solid treat. For my dogs, it's not a long lasting chew, but I didn't expect it to be. I only expected for my dogs to enjoy chewing it, which they did!
I can't claim it did anything to clean their teeth; they each have had only one so far. I would think, however, that long term use would provide dental benefits.
The large chews come in a package of 4 and the small chews come in a package of 10. The large chews go for about $13 on Amazon.
The only thing I was disappointed in with these chews was that I didn't get an adorable piggy chew in my bag. :(
;P
Lassie and Petal give
Mini Meaty Bites
4 out of 4 paws up for tastiness!




I give them 4 1/2 out of 5 hearts.




Lassie and Petal give
Sweet Potato Stix
3 paws up!



I give them 4 hearts.




Lassie and Petal give
Chew Buddies
4 paws up!




I give them 4 1/2 hearts.




I would definitely consider buying the Mini Meaty Bites and the Chew Buddies. The Sweet Potato Stix are great and my dogs love them, but I tend to go for the meaty treats first. Plus I try to give very little of anything sweet potato to Petal. As a puppy, for whatever reason, her tummy was a little sensitive to sweet potatoes. I'm not sure if it still is. She did just fine with the Sweet Potato Stix, but like I said, I limited her to just 1 or 1 1/2 every few days. Lassie gobbled up many of them though and really enjoys them. I would consider buying them for use in our KONG Genius.
For more fun and more info about KONG Treats, you can follow them here:
Facebook:
https://www.facebook.com/KONGTreats?ref=tn_tnmn
Twitter:
https://twitter.com/KONGTreats
(handle: @KONGTreats)
Pinterest:
http://pinterest.com/kongtreats/pins/
Instagram:
http://instagram.com/kong_treats
Alright doggies, get your humans over here and bark bark bark until they enter you into this giveaway. You wouldn't want to miss out on some tasty treats, would you?
We're offering 3 people a chance to win the same 3 bags of treats we just reviewed!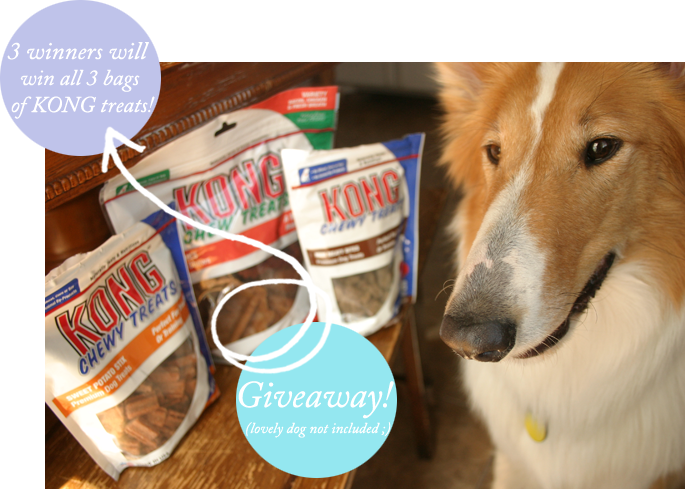 That's right! 3 of you will win 1 bag of Mini Meaty Bites + 1 bag of Sweet Potato Stix + 1 bag of Chew Buddies!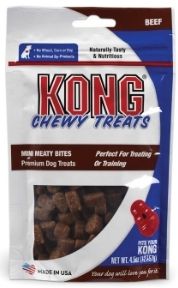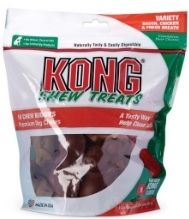 The contest is open to US residents only. The winners will be announced here on the blog and contacted via email within 72 hours of the contest ending, so please be sure to leave your email address in the comments so I can contact you if you win.
Now get to entering! ;)
a Rafflecopter giveaway
You're welcome to earn as little or as many entries as you want.
Now just one last thing before you go.
KONG Treats has a video contest going on! They want to see what your dog(s) will do for a KONG premium treat!
We have lots of talented doggy friends who may enjoy this contest.
For those of you who may be interested, here are some of the details:
•
"Like" the KONG Treats Facebook
o
The video clip must include: 1) your real-life dog or dogs (not animated/computer-generated), and 2) clearly visible KONG Premium Treats product and packaging
•
All eligible submissions will receive three (3), 6.5 ounce bags of KONG Soft & Chewy Treats!
•
In addition to those KONG Soft & Chewy Treats, three (3) winners will receive the following which keep their dogs' tails wagging:
-
Six (6), 4.5 ounce bags of KONG Mini Meaty Bites - Chicken;
-
Six (6), 6.5 ounce bags of KONG Meat Stix - Lamb;
-
Six (6), 9-count each bags of medium/large-sized KONG Fresh Breath Dental Chews; and
-
Six (6), 2-count each bags of KONG Dental Rawhide Retriever Rolls
-
Plus, KONG Treats will donate twenty-four (24), 6.5 ounce bags of KONG Soft & Chewy Treats to the dog rescue shelter of each of the 3 winners' choice!
For complete contest rules, please visit:
http://www.jakks.com

/KONGTreatsContestRulesFacebook
Discloser: I received 3 bags of KONG Premium Treats, free of charge, to review. I was not otherwise compensated. All opinions expressed here are entirely my own based on my experience with the products. I was not paid to write a positive review.
I am in no way involved with running the KONG video contest. I am simply spreading the word to those who may be interested.