I love Chewy.com and was thrilled to work with them again for this review.
Chewy.com has many brands of pet food to offer. They also offer treats, toys, clean up supplies, leashes, collars, and much more.
My favorite thing about Chewy.com would have to be their customer service. I order our cat food from them (it's so much cheaper at Chewy.com than anywhere else, another plus!) and have had to contact customer service on two occasions and both times they were very prompt and incredibly kind. They didn't make me want to pull my hair out and they didn't make me feel like it was my fault.
Chewy.com asked us to review
Orijen Freeze Dried treats
.
Chewy.com offers Orijen's dog food, cat food, and dog treats. Orijen's foods and treats are made in Canada.
We were sent the Original flavor of their freeze dried treats. Here's a description of them from Chewy.com:
No lazy lap dogs here… these treats are just for the rough-and-tumble, ready-to-wag pups. Orijen Original Freeze-Dried Dog Treats are filled with tasty chicken, turkey, and flounder to provide your pet with a protein-rich snack that's made without any preservatives, fillers, or artificial flavors. Each grain-free treat only has seven calories, and is freeze-dried to lock in all of the nutritional content and flavor. 5 Star reviews across the board!
Key Benefits
Made with high-quality protein sources
Preservative-free
Grain-free
Low-calorie, freeze-dried dog treats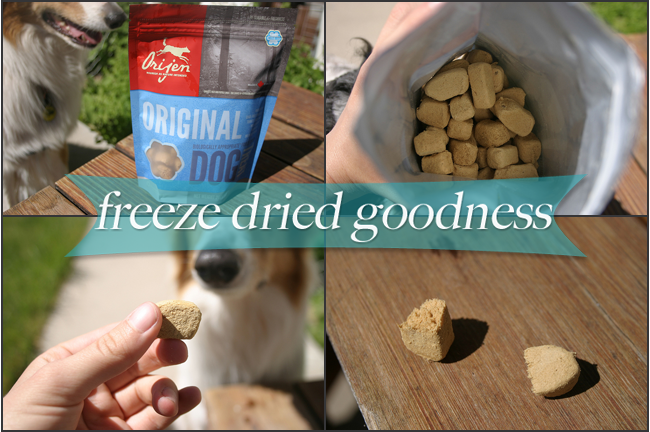 They're basically the dog equivalent of cat nip (or crack).
My dogs went
insane
for these treats.
I'm not kidding. I could probably train them to back flip for them.
Look at this crazed look Lassie got in his eyes:
And Petal, or Miss Talks A Lot, is more quick to end her loud conversations (complete with obnoxious "dancing") with neighborhood dogs when I bring these treats on our walks. Which quickly made them a five star training treat in my eyes.
Even Petal's picky friend Pepper devoured half of one and then demanded the other half. This dog usually won't take any dog treats from me.
They're soft treats. You can easily pinch smaller pieces off of it. They crumble easily and would probably work well to bribe finicky eaters to eat their dinner. That also makes them a bit messy though, but my dogs will happily lick up every last crumb.
They don't have a super strong odor (which is a big plus), but they aren't something you want to go inhaling deep breaths of. Unless you're a dog, of course.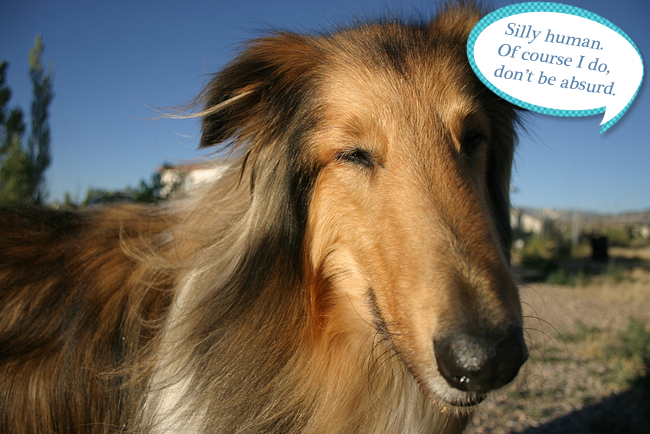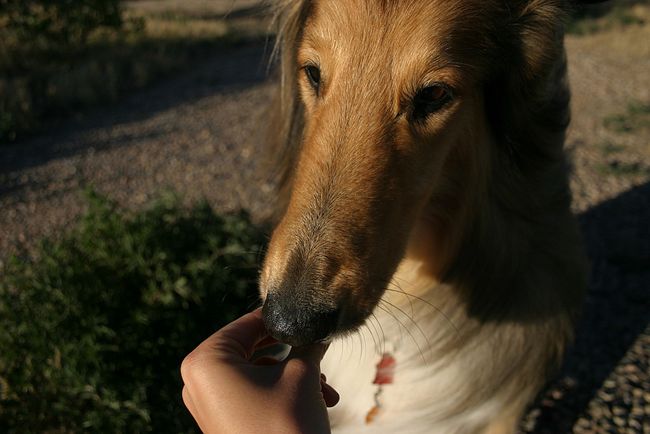 While my dogs love how these treats taste, I love that they're high quality and the ingredients are simple:
Cobb chicken liver, turkey liver, boneless Cobb chicken, boneless turkey, boneless flounder.
That's it! That's all that's in them.
They only down side to them is, they are rather pricey. Though I suppose that's to be expected for a high quality treat.
The dogs give them 4 out of 4 paws for deliciousness.




I give them 5 out of 5 hearts for their high quality.





And 4 hearts for cost.




Overall, we really loved these treats! We would definitely buy them and recommend them to our friends. Next time you're in need for a high quality training treat, head over to
Chewy.com
!
Learning to back flip (just kidding).
Discloser: I was sent one bag of Orijen freeze dried treats from Chewy.com for review purposes. I was not compensated for this review. All opinions expressed are my own.
Labels: chewy.com, cocker spaniel/poodle mix, collies, freeze dried treats, lassie, orijen, pepper, petal, review, rough collies, training treats