Today we are reviewing Devotion dog spray from
Viva La Dog Spa
!
Viva La Dog Spa makes— yes, you guessed it: dog grooming supplies such as shampoos, conditioners, sprays, and more.
Viva La Dog Spa has a fun and pretty French look and a adorable Poodle mascot, Lilly Claire.
Their products are made with Solar Power and their bottles, labels, bands and pumps are recyclable! They also pre-cycle whenever possible. You can read more that
here
.
A little about Devotion and what it was named for:
"Because there's no one more loyal than your dog, we named our new designer fragrance,
DEVOTION
. DEVOTION is not only the main characteristic of our dogs, it's our promise to them too – to be devoted! It's a relaxing blend of soft floral scents that's both playful and feminine. Imagine a light mist of fresh flowers with the soft, clean scent of raspberry on a warm day. It's a winner!"
Our bottle of Devotion arrived wrapped up sweetly.
It comes in a decent sized bottle at 6 Fl. Oz. The bottle itself has a simple and pretty look.
Pretty also describes the scent. It's a very pretty scent. It smells so pretty that I refrained from using it on Lassie. He says it's bad enough I named him "girl", I don't need to go and make him smell like one too. ;)
It smells nicer than most human perfumes. I'm tempted to use it on myself.
In fact, I did. I sprayed a bit of it on each wrist, just to sample it before I sprayed it on Petal. I have really sensitive skin and I didn't want to spray something I could potentially be allergic to on Petal, seeing as I'm often rubbing my face against her fur and kissing on her.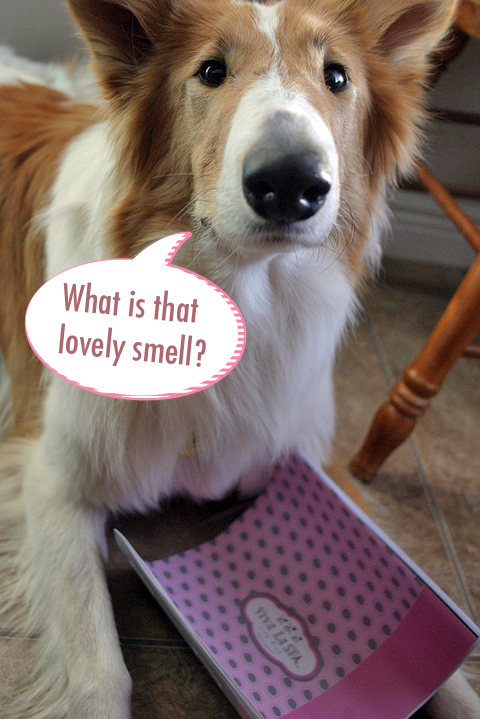 Unfortunately the scent only seems to last about two days.
It took a few tries to get the spray nozzle to work that first time, but after that it has worked like a charm! Although, it doesn't spray the way I was expecting it to. It doesn't drench Petal or come out in a stream or anything, it just doesn't come out in the really light, but wide spread, misty spray I expected it to. Because of this it only covers a small area of fur, but if I rub it around I can get it to cover a larger area.
I haven't had any severe reactions to it, but (and it very well may be just me, I am sensitive to some perfumes, so I'm keeping that in mind), it is strong at first. Petal doesn't always appreciate it that much when it first goes on, but after I rub it in it doesn't seem to bother her. I never use more than one spritz.
The ingredients of this fragrance are no where to be found. They're top secret. So this spray may or may not be a suitable fit for dogs with allergies.
Pretty little bottle, isn't it?
Our over all rating of Viva La Dog Spa's Devotion spray:
I give it 4 out of 5 hearts; it smells so pretty, but initially it's rather strong
(so it may not be a good choice for the really sensitive type)
. I almost feel funny about spraying it on Petal because it smells so much like a human perfume, LOL.




Petal gives it 2 1/2 out of 4 paws, 'cause that first spray sometimes makes her sneeze a big sneezie.



To be perfectly honest, unless someone directly asked me about it ("Your dog smells so good! What did you use? Where can I get it?" for example), this wouldn't be the first grooming splash/spray I would recommend.
Check out
Viva La Dog Spa
to learn more about them and their products.
You can also find them on
Twitter
and
Facebook
.
Discloser: I was sent one bottle of Devotion pet fragrance for review purposes. I was not compensated for this review. All opinions expressed are my own.
Labels: collie, petal, review, rough collie, viva la dog spa